Peter J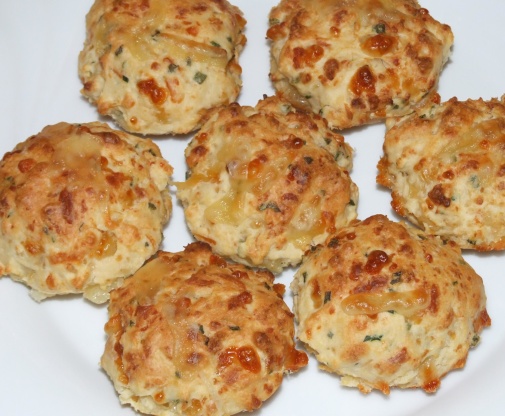 Easy to bake--tasty and so versatile. Yummy when still warm, great with a filling, or cold on a picnic. Delicious split and grilled--my family loves these.

I'm not a scone person... or I wasn't until now! ;) These were really easy to make (my first time) and turned out delicious. They were even better the next day. Besides making my own self-rising flour (to 1 cup all-purpose flour add 1-1/2 teaspoons baking powder and 1/2 teaspoon salt), my only change was to add some milk because I wasn't sure what 12 oz of flour was. Oops! But they turned out great anyway... must be a forgiving recipe. Anyway, I made these in a muffin tin and my husband gobbled three of them up right away. Thanks, JoyfulCook!
Sift flour, salt and baking powder together. Rub in the margarine. Add the mustard, cheeses and chives. Mix well and add the milk to give a fairly soft dough.
Roll out to about 1 1/4 inches thick. Cut and brush slightly with milk and add a sprinkling of extra grated cheese on top--not too much.
Bake in a hot oven (210-220°C) for approximately 7 to 10 minutes.