Cheese and Broccoli Stuffed Chicken Breast
teresas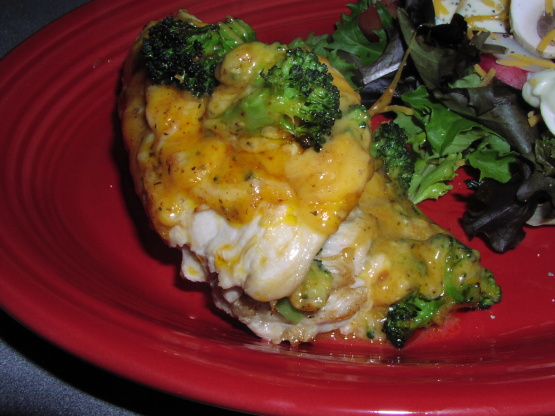 What can I say but MMM. I tried this one day instead of Chicken Kiev and it's been a fave ever since.

I prepared this for a banquet of 55 people the other night. It was a BIG HIT everyone loved it.Very easy to do . I stuffed the chicken with uncooked brocolli and cheese and let it cook on 350 for 45 mintues. The thickess part reach 185. It was perfect.Served over rice with melted cheese on top.
Take each chicken breast and cut in half leaving a small amount attached in back as to allow for stuffing.
Fry each side just until the chicken is no longer pink.
Set aside ½ cup of cheddar cheese.
In a bowl mix the rest of the ingredients together stirring gently just to combine.
Take the cheese and broccoli mixture and stuff chicken quite full.
Fasten with toothpicks along edges or tie loosely with butchers twine.
Place in a baking pan and cover with remaining cheese.
Cook in a 350° oven for 20 to 25 minutes.