Cheese and Anise Seed Quick Bread
Annacia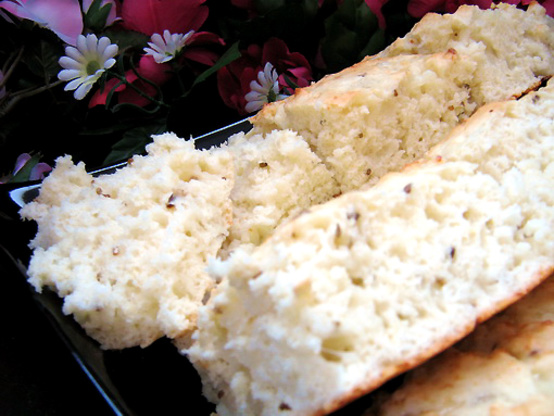 Original recipe from "On Cookery" By the Greek philosopher and astronomer Heracleides in the third century B.C. Recipe "modernazation" found in "The Philospher's Kitchen" by Francine Segan.

This is a very interesting recipe. I wasn't sure exactly what to expect from the anise/cumin combo but it's great. I went really low fat by using fat free cottage cheese and 1/2 a cup of egg white so the only fat was the bit of olive oil. It turns out like a big biscuit so it's a side to a meal for me and not really a coffee or tea go with. The only reason I'm not giving it a 5 star rating is that I needed to add almost 1/4 cup of milk (skim) to be able to incorporate all of the flour. That might not be the case of your cottage cheese is quite creamy, my carton was on the dry side. What a grand way to experience history. Made for Photo Tag.
Preheat oven to 375°F.
Lightly grease an 8X8 inch swuare baking pan and set aside.
Stir together the dry ingredients.
In another bowl, wish the liquid ingredients together.
Combine the dry and liquid mixtures until just blended.
Spread the dough evenly in the pan.
Bake until golden brown or 20-25 minutes.
Cut into squares and serve warm.