CA.TN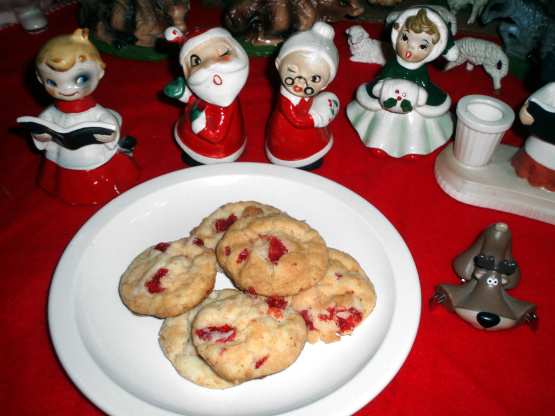 If you like coconut and maraschino cherries, you're bound to love these delightful little cookies. They come out delicious and they make a pretty presentation.

These were good. They could have used just a little more flavoring. Maybe some of the juice out of the cherries or something. Still, very good and we enjoyed it! Thanks for sharing!
Preheat oven to 375 degrees.
In a mixing bowl, cream sugar and shortening together.
Add eggs and almond extract and mix well.
Combine flour, soda, powder and salt and gradually add to creamed mixture.
Stir in coconut and cherries, this will take a bit because the dough is very stiff.
Drop by rounded teaspoonfuls 2 inches apart onto greased or non stick cookie sheets.
Bake for 10 to 12 minutes or until light golden brown.
Cool on racks.