lazyme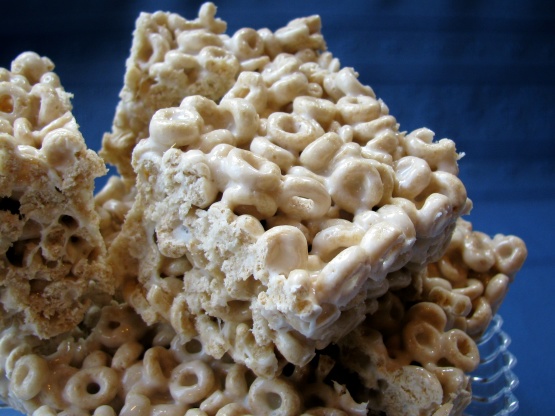 My mom used to make this instead of rice crispy treats. Honestly I like these way more than the rice crispy version. For a twist, use Honey Nut Cheerios. I have set it up so that the Prep time is the the time on the stovetop and cook time is the time to let it set up in the pan. Enjoy!

These were in my little ones words "Oh so Awesome!" Perfect for my sweet tooth, and on the healthier side at that! We used Honey Nut Cheerios, but next time I am using multigrain cheerios! Thanks for posting!!
Melt the Margarine in a large pot. Add the Marshmallows and stir until melted.
Now, add the Cheerios a little at a time and stir them in so that the cheerios are completely coated. Keep adding Cheerios until no more will be coated.
Pour the mixture into a 9x13 pan and allow to cool. Slice it up and eat.