Cheddar Tomato Oven Omelette
Nimz1466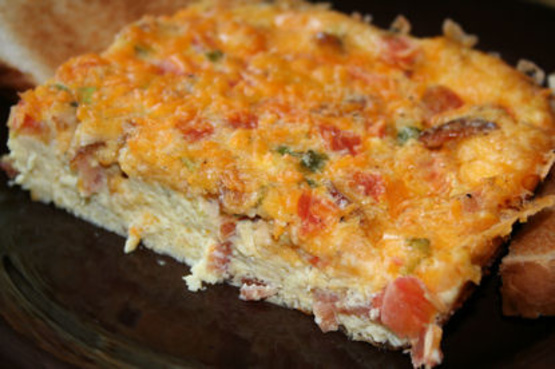 This is something my mother makes for Christmas brunch every year. Everyone loves it, even the kids. I made her give me the recipe so that I could have it more than once a year. Cooking time may vary a bit.

I have to admit, I was skeptical at first. I have never done eggs in the oven before... I will never do them on the stove again. I made this 2 days in a row. It's so easy & SO good. I made a few additions that you MUST try. Instead of bacon I cooked up our local grocery stores fresh poultry breakfast sausage. Veggies I added were frozen asparagus, sweet peppers, onion, fresh mushrooms & jalapeno. As well as the cheddar, I had some goat cheese & added that.... OMG. WINNER!! It made it so creamy. YUM. Take my advice. This is a delicious & hearty breakfast.
Preheat oven to 350ºF.
Cook bacon until crisp, reserve 1 tablespoon of drippings.
Saute onions in drippings.
Add tomatoes.
Sprinkle on flour and salt, toss lightly to coat.
Beat together eggs and milk.
Add vegetable mixture, 1 cup cheddar and chopped bacon.
Mix together.
Pour into a greased 8 x 8 x 2 (2 quart) pan.
Bake uncovered for 40-45 minutes.
Remove from oven and sprinkle on remaining 1/4 cup cheese.
Let stand 5 minutes so cheese melts.