Annacia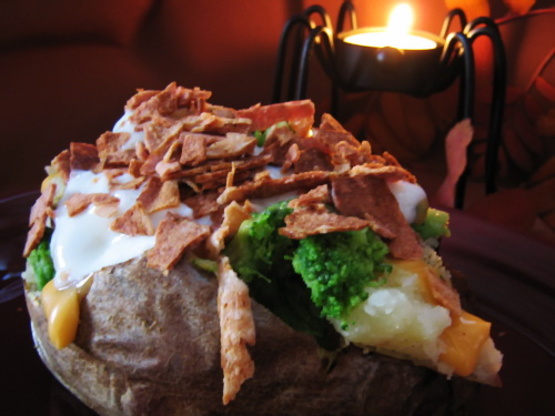 I got this on a card at an event promoting Wisconsin grown potatoes and dairy products. It is from Sargento Cheese. I have not tried it yet.

This made a full (and big) meal for me tonight and, boy, was it good. I used low fat turkey bacon cooked in the microwave, fat free cheese and fat free sour cream. I must confess to being lazy and just cutting the potato open and and packing all the goodies in onto it. It worked for me and was yummy. I layered first the onions, broccoli, cheese, sour cream and the bacon on top. Worked perfectly for me :D.
Bake potatoes in preheated oven 55 minutes or until tender. Cool 10 minutes.
Meanwhile, cook bacon in large skillet until crisp. Remove bacon and set aside.
Pour off all but 1 tablespoon bacon fat. Cook broccoli and onion in drippings over medium high heat 8 to 10 minutes or until tender, stirring occasionally.
Holding potatoes with a pot holder, cut off top 14 of potato (lengthwise). Reserve top for another use. Scoop our potatoes into a large bowl leaving 1/4 inch shells.
Combine potato pulp with bacon, vegetable mixture, salt and pepper. Stir in a cup cheese. Set aside.
Pace shells in 2 quart rectangular baking dish. Spoon potato mixture into potato shells, mounding over shells. Top with remaining cheese.
Bake in preheated 400 degree oven for 20 minutes or until heated through. Serve with salsa or sour cream, if desired.