Cheddar Stuffed Potato Cake and Egg #5FIX
lbonwill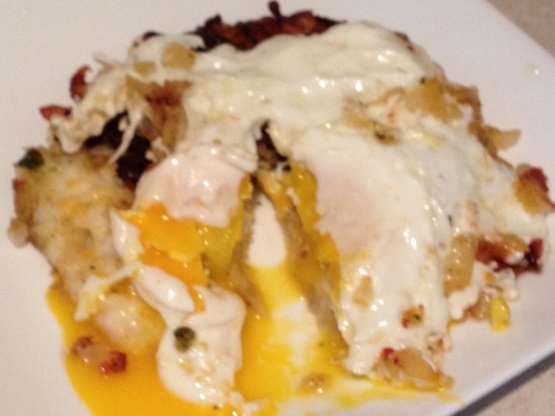 5-Ingredient Fix Contest Entry. Sharp Cheddar Cheese stuffed inside of a crispy and delicious potato cake. "Egg"cellent plated with an "over easy" egg. So easy to make and prepare. Have dinner on the table in minutes.

Love poached eggs and atop tater would be so tasty! This is a very good recipe Linda!
118.29

ml olive oil

680.38

g Simply Potatoes Traditional Mashed Potatoes

566.99

g simply potatoes southwest-style hash browns

226.79

g sharp cheddar cheese (block)

10

eggs, poached
1. In large skillet heat oil, medium heat.
2. Open package to mashed potatoes. With a knife divide into 10 equal parts.
3. Add shredded hash browns in separate bowl.
4. Drop one piece of mash into bowl of hash browns, pressing lightly. Add chunk of cheese to center, folding over potatoes to seal. Flip cake over to cover. Make sure entire cake is covered with shredded hash browns.
5. Add to hot oil. When cake is brown on one side flip and brown on opposite side.
6. Poach eggs, serve one egg on each potato cake.