I adopted this recipe, and after playing with the recipe, I have adapted it slightly (on July 7, 2005) to include a little less butter.
Directions
All the ingredients should be at room temperature before starting this recipe.
Whip slowly, in a medium mixing bowl, with the mixer until the mixture is fluffy. I also have mixed it well by hand, but room-temp ingredients are KEY to do that.
Spread on bread slices. (Rye, Sourdough or regular French Bread are great.) Toast under the broiler until hot.
Most Helpful
Very nice! I used fresh grated Parm instead of Romano. I served It with Steaks and Salad, I will make this often!

I had to try this last night with a salad I had made, and used sourdough sliced about an inch thick. This is a wonderful addition to any meal, and as VFP mentioned, goes well with a salad. Thanks for a great spread! :)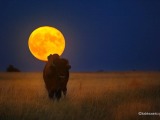 I downsized the recipe to just one serving for myself as a sinful breakfast. I was suppose to use an entire stick of butter, but decreased that and increased the cheddar cheese slightly. I spread this on slices of multi-grain baguette before broiling. Excellent flavor combination. This would be an excellent appetizer or side with soup or a salad.