henway00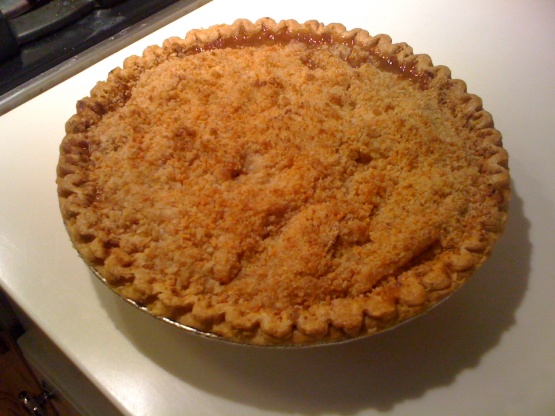 Featured recipe in an email this morning from the www.allrecipes.com website. It was posted by MommaChef and here is what she says about it: "Without a doubt, this is the best pie in my arsenal of recipes. It is a pear-filled pie topped with a crumble of brown sugar and Cheddar cheese."

This was FANTASTIC! It doesn't come out super-cheesy, but very nice. I used red pears, frozen crust, packed the topping over the top, and it came out so deliciously crisp. I usually have a problem with soupy fruit pies- not this one! It baked up and set up perfectly. It's definitely a cousin to apple pie, and I might add ginger or other spices to play up the pear's character, but I will enjoy every experiment, because this is a HIT!!!
Preheat the oven to 400 degrees F (200 degrees C).
Combine the flour, 1/2 cup brown sugar and Cheddar cheese. Cut in the butter until the mixture resembles coarse crumbs.
Toss the sliced pears with the lemon juice. Combine the 1/2 cup brown sugar, cornstarch and cinnamon in a separate bowl. Add the sugar mixture to the pears and toss to coat.
Transfer the pears to the pie crust and top with the crumble mixture. Bake in the preheated oven until the top is golden brown, about 45 minutes.