alligirl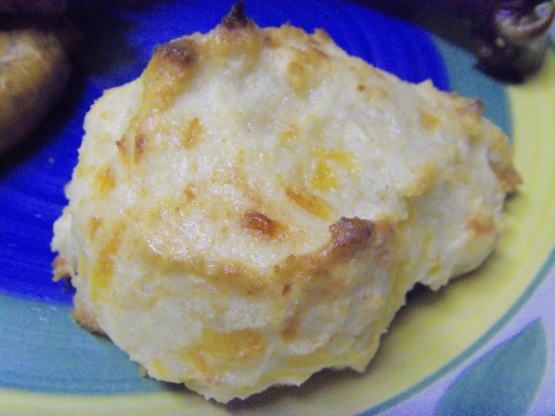 This biscuit recipe came off the back of the Bisquick box. It is great with soups, stews and chili. They are really simple to make and are done in a flash.

I made several changes, all of which I recommend, because the result is AMAZING! I used one cup of shredded Mexican cheese blend in place of the cheddar cheese, and added 2 tablespoons of melted butter to the dough mix, as well as some garlic salt and some sriracha hot sauce. After the biscuits were done, I patted on a tiny bit more melted butter, and then gave them another minute in the oven.

Perfection.

Note: for all of you convection oven folks, these were done after eight minutes in a 450 degree oven set to "convection bake". Another minute, and they would have burned for sure.
Preheat oven to 450F degrees.
In a medium bowl, combine baking mix, milk and cheese.
Use a tablespoon or small ice-cream scoop to drop batter about 2 inches apart onto an ungreased baking sheet.
Bake 7-9 minutes, until lightly browned. While baking, melt butter in a small container in microwave or on the stove. Stir in the garlic powder and garlic salt. When biscuits are done, remove from oven and pour butter over them to drench. Serve immediately.