Bev I Am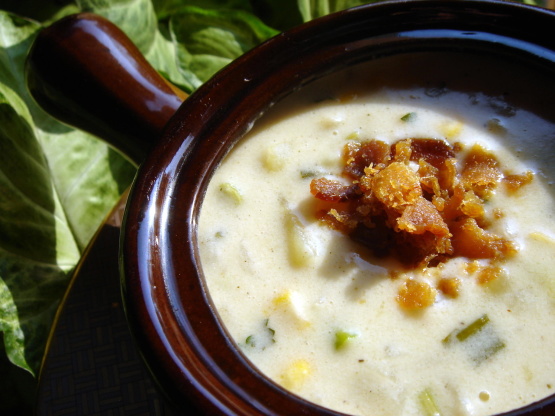 This is another recipe from Aces, from the Best of Bridge series. It's quick, simple and tastes really good. You can also substitute canned corn for the frozen. ZWT Mid-West region (corn).

This is almost identical to the corn and cheese chowder I make from the Vegetarian Epicure (except for the chicken stock and bacon). I usually add more potatoes - it is fabulous - one of my son's favorite foods. I would have posted it myself if this wasn't here already!
Melt butter. Add onion, potato, bay leaf, cumin and sage. Cook stirring for about 5 minutes.
Blend in flour and then whisk in stock and cream. Bring to a boil and reduce heat and simmer 30 minutes, stirring often.
Add corn, parsley, onions, nutmeg, and wine. Simmer for another 5 minutes until heated through. Remove bay leaf. Stir in cheese and heat until melted (DO NOT BOIL). Garnish with bacon bits.