Sara 76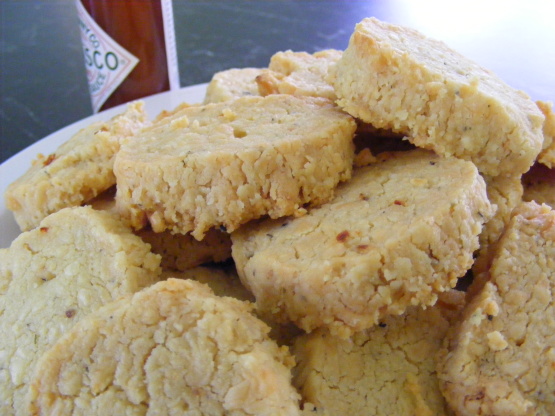 My younger sister says these taste like goldfish crackers yet have the texture of a cookie.

These are good! I had to add a little extra butter because it was too crumbly to shape into the log, but apart from that, I made it as written. I want to buy some wasabi cheese today to have with them, I think they will match well! [made for Aus/NZ recipe Swap #22]
Put spices and butter in a pot.
Stir while heating until it starts to bubble.
Reduce heat.
Stir in flour.
Remove from pot and place in mixing bowl.
Mix in cheese.
Roll into log (refrigerate if necessary).
Use cheese cutter to cut into medallions.
Bake at 400 for 20 minutes.
Remove from cookie sheet.
Cool.
Serve with Tabasco sauce.