Tisme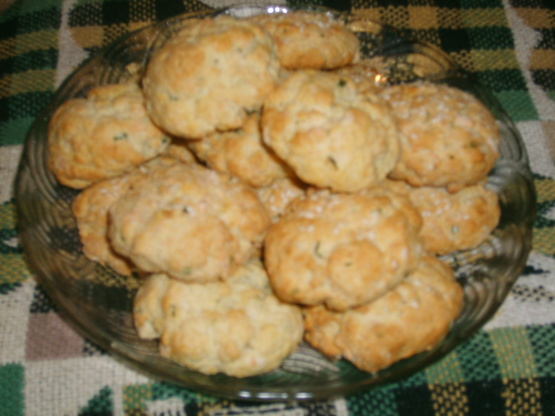 This recipe comes from the Bevo Mill restaurant in St. Louis, Missouri. (It's right up the street from my house). These are very good.

Great biscuits - easy to make. I used fresh chives and 1 % milk and they turned out fine. I love that there is no kneading the dough - just drop.
Preheat oven to 400°F.
In large bowl with fork, stir flour, Cheddar cheese, sugar, baking powder, chives, and salt until combined.
Add butter and oil and stir just until mixed.
Add milk and stir just until mixtture forms a soft dough that leaves side of bowl (do not overmix).
Drop dough by 1/4 cups, 1 inch apart, on ungreased large cookie sheet.
Bake biscuits about 20 minutes or until golden.
Cool biscuits slightly on wire rack to serve warm or cool completely to serve later.
Reheat if you like.