kymgerberich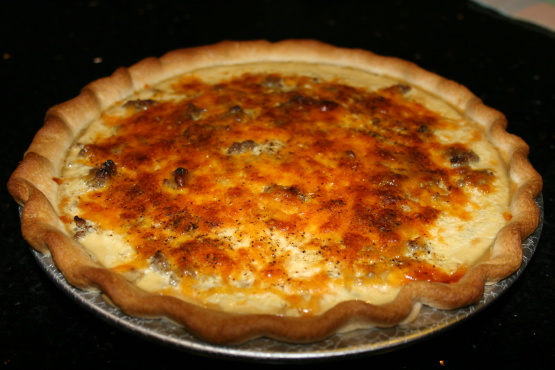 This is from our Church cookbook, it's very simple and so yummy! Something different when you don't know what to do with ground beef. Serve it with mashed potatoes or French Fries and the kids will love it. This is the kid friendly version, you can spice it up with some chiles or hot pepper sauce if you want to. We like it as is served with HP sauce.

I dont know if I really liked this, or if I was just so hungry, but I scarfed this down! It tastes just like a hamburger to me. Next time I think I will mix the cheese/egg mix in with the meat to make it a little less dense, and to add some more flavor to the meat mix. I didnt have a pie crust, and didnt have time to make one, so I used crescent rolls. I Unrolled them, and stretched a little in the pan. I think I will use those for now on when I make this. The buttery crust was really good with the meat mix. All in all, this will probably be on my meal chart in the future.
Brown ground beef with onion and garlic, drain fat off well.
Stir flour, salt and pepper over browned beef.
Spread mixture in pie shell.
Spread cheeses over this.
Whisk milk, eggs and worcestershire sauce together and carefully pour over ground beef and cheddar.
Bake at 400 degrees F for 35-40 minutes.