Cheddar Cheese, Pretzel, Beer & Beef Hamburgers
Rita1652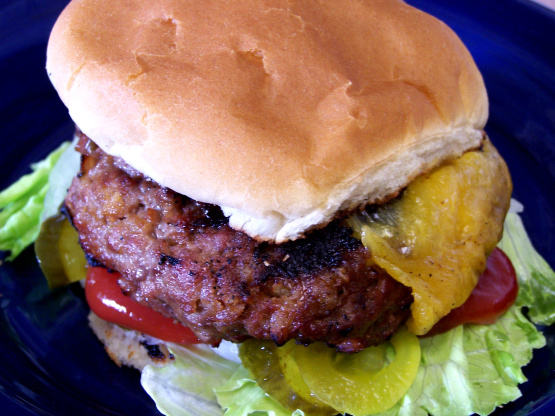 Whats better then wet beer, salty pretzels, juicy beef, sharp cheese, sweet relish, and some hot, HOT, smoky, heat! Go a head a top with lettuce, tomato onion whatever you desire.;)

Was looking for something different to do with the same old burger. Not really my favorite meat. I love new and different so of course your recipe caught my eye. This is a great burger! Juicy, full of flavor and I didn't even use chipotle (not sold in this town). Will be making this again and again. Thanks.
Mix beer, pretzels, onion, garlic, chipotle, relish, and salt together and let sit a couple minutes, and mix into the ground beef. You'll want to mix until the ingredients are evenly distributed, but be careful not to overwork the ground beef.
Makes 4 very large patties 6 medium.
Grill the burgers till done, about 10-15 minutes, turning once.
Just before taking off place cheese on burgers let melt and remove an place on buns.
Serve with beer and pretzels naturally!