Baby Kato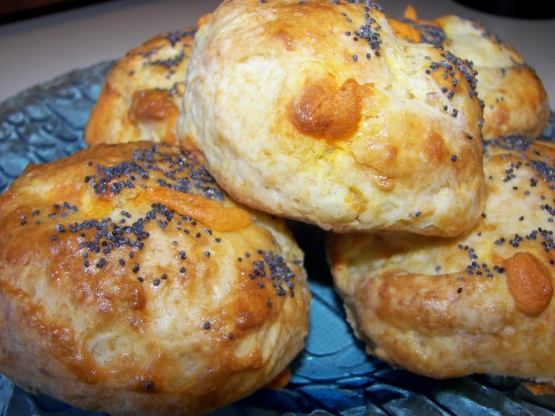 Oh, Bev, you really struck a chord here with me, I adore cheesey biscuits, and I adored these. Cheddar cheese isn't so strong in this country, so I used a mix of Cheddar and kashkaval, and it was delicious. I also cut them smaller, using a 1 inch round shot glass to cut the rounds. I dipped the whole round in the egg wash and dipped half in poppy seeds and half in sesame seeds. With a little dab of butter spread on them afterwards, these are cheesey heaven!
Preheat oven to 400F degrees.
Combine first 6 ingredients in food processor and blend.
Add butter and cut in, using pulse, until fine meal forms.
Transfer to large bowl, mix in cheese.
(Can be prepared 4 hours ahead, cover and chill).
Mix enough buttermilk into flour mixture to bind dough.
Turn out onto floured surface and knead gently until combined, about 10 turns.
Pat out dough to 3/4" thickness.
Using 3" biscuit cutter, cut out biscuits.
Gather scraps, pat out to 3/4" thickness and cut additional biscuits.
Transfer biscuits to ungreased baking sheet.
Brush biscuits with egg glaze and sprinkle with poppy seeds.
Bake until golden brown and firm to touch, about 18 minutes.
Serve warm.
Makes about 10 biscuits.