Cheddar Cheese and Chutney Toasted Doorstep Sandwich!
gailanng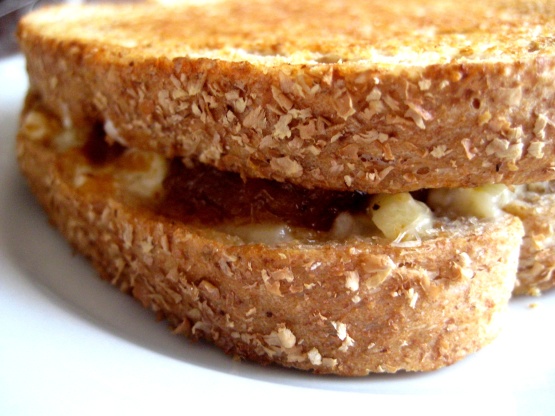 A real old fashioned British style "Doorstep" sandwich, jazzed up a wee bit by adding chutney with mayonnaise and then toasting it........just delicious! The only criteria for these toasted "sarnies" is that you use THICK slices of good quality white Farmhouse style bread; such as home-made or Artisanal crusty bread! And, a good quality Cheddar cheese - preferably mature with good mayonnaise and tangy chutney! Although I have given the method for grilling (broiling) these sarnies, they'll be fine if they're made in an electric sandwich or grilling machine, such as a George Foreman. There is no need to add the chutney separately then, just add it to the cheese and mayonnaise mixture. This is a recipe for one greedy person - please increase the quantities for more greedy people if necessary!!

Top Review by Debbwl
What a great way to dress up grilled cheese. Made using home made tomato chutney, fat free cheddar cheese, and cut the mayonnaise in half. We liked this so well that the next night when Zaar/Food.com was down we made it again. Thanks so much for the post.
Preheat the grill. (Broiler).
Mix together the grated cheese with the mayonnaise and mustard powder. Season to taste with salt and black pepper.
Spread the cheese mixture on one slice of bread - making sure it reaches right up to the edges. Put it under the grill for 2-3 minutes or until golden, melted and bubbling.
Spread the chutney over the other slice of bread and place it on top of the toasted cheese - sandwiching the two pieces of bread together.
Put the sandwich under the grill (broiler) and toast on BOTH sides.
Remove carefully, cut in half and enjoy!
NB: Mix the cheese mixture and chutney together if using an electric sandwich grill.