Parsley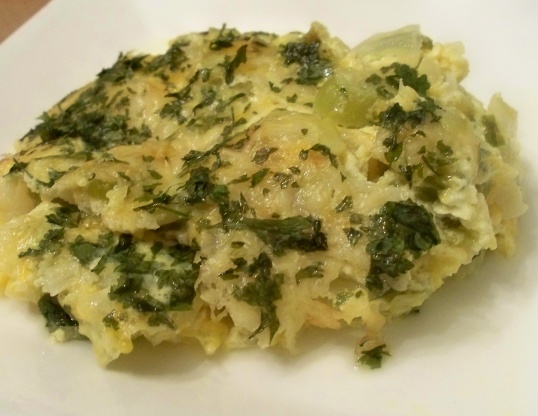 A lo carb veggie dish that I have not tried yet, listing it here for safe-keeping. This came from The Carbohydrate Addict's Cookbook.It sounds like something warm and satisfying for a cold winter's day.
Preheat oven to 375 degrees F.
Heat 1 TBS olive oil in a small skillet over medium heat. Add cabbage, celery, onion and saute 7 to 8 minutes, or until tender.
Coat a 10 by 6 inch baking dish with remaining 1 TBS of olive oil and add cabbage mixture.
In a medium bowl, combine milk, cheese, salt, eggs, and egg white, stirring well. Pour over cabbage mixture.
Combine parsley and Parmesan cheese and sprinkle over cabbage mixture.
Bake for 40 to 45 minutes. Let stand 5 minutes before serving.