Boomette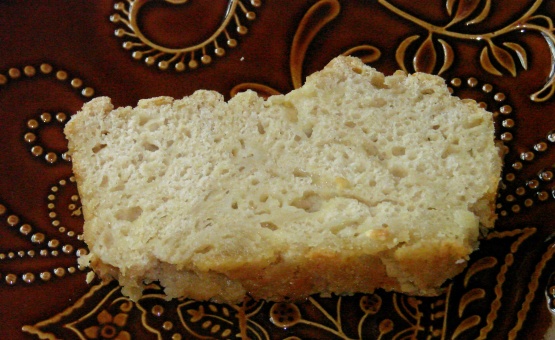 A "rustic"-type bread that goes well with chili or stew (I recommend serving it with Crock Pot Wild Mushroom Beef Stew or Never-Entered-In-A-Contest-But-Still-Super-Good Chili). This bread originally had a mix of 8 oz. beer and 4 oz. hard cider (instead of all beer), and you could do that as a variation on this recipe. I use all beer when I make it (a dark beer is probably best, like Guinness Draught or Shiner Bock, which are the two I usually use), and I adapted this recipe from a cooking blog that I frequently read. Note: When cutting this bread, I suggest putting down wax paper over the cutting board; otherwise, you will need to wash butter from your cutting board after each time you slice the bread. UPDATE: I have used 6 Tablespoons of butter (3 on bottom and 3 on top), and the bread still came out great. So, anywhere from 6-8 Tablespoons of butter will work in this recipe.
I added granulated roasted garlic to the mix which gave it a lovely bit of smokiness; I loved the crunchy crust but I think I will follow some of the other reviewers and add some onion next time ; I will make it again. Can't wait for dinnertime, we're having beef stew tonight. Thanks for the recipie!
Preheat oven to 350 degrees F, and lightly grease the sides of a 9x5 loaf pan.
In a large bowl, sift the flour, baking powder, salt, and sugar together. Add the cheese and mix with a wooden spoon.
Add the beer (it doesn't need to be room temperature or anything-cold is ok). Mix until incorporated but not much more. Do not overmix.
Pour 1/4 cup of the melted butter into the bottom of the prepared pan. Spoon batter into pan. Top batter with remaining 1/4 cup butter (I know-it looks like a GIANT sea of butter. It will get absorbed as the bread cooks).
Bake for 50 minutes or until a wooden skewer comes out clean.