Cheddar Bar-B-Q Chicken Breasts!!!
Swirling F.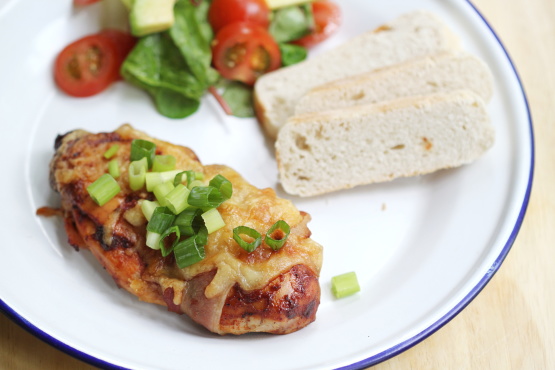 A wonderful and quick main course just add a veggie and side dish and you have a nice healthy dinner Just added 8-28-04: You can also add chopped tomatoes on top with the green onions and if your in a hurry use the precooked bacon, you can cook the chicken on a grill it tastes wonderful as well!

I have had this two ways, the way as stated and grilled. I prefer the grilled way. It is so much better. You grill the chicken with the bbq sauce and then add extra when you put in the oven to melt the cheese. We cooked the bacon in the skillet to get it nice a crunchy and didn't top it until the chicken came out of the oven. Super YUMMY!
Cover Chicken breasts with bar-b-q sauce and bake until done, usually about 15-30 minutes in a 350 degree oven (I don't pay attention to the time too much) When chicken is done pour on more sauce, add bacon strips to cover the breasts and cover with cheddar cheese, return to oven until cheese melts.
Add sliced green onions and serve.