Cheddar Baked Bagels and Eggs
Bergy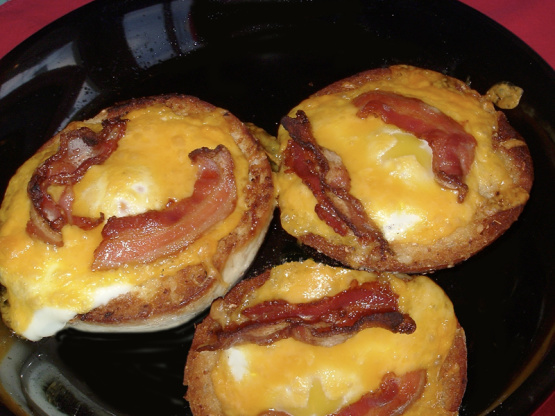 Kids love these! Also go well on a buffet breaky.

WARNING! These bagels may induce family members to linger at the table. Do not make this if you have to rush off to work or the kids have to get to school. These are so delicious, so addictive, that people will sit, and eat, and talk, and eat, and want more. They are pretty easy to make, so if you don't make enough you can easily make more when everyone clamours for seconds, thirds, fourths... but beware, children will be late for school and you will be late getting to work. I suggest having these for a leisurely Sunday morning breakfast, or maybe even for a funky dinner. Do not make or even eat these if you want to rush off to where you need to go. I added a bit of cayenne pepper to my portion before cooking it, gave it just enough heat to wake me up. I enjoyed these so much, we're going to have them again tomorrow, maybe even the next day, and the next....
Butter the cut sides of bagels, and enlarge holes to 1 inch in diameter.
Working in batches, place bagel halves buttered side down in heavy fry pan over medium high heat.
Cook for about 2 minutes or until golden on bottom.
Transfer all bagel halves, cut side down to rimmed baking sheet.
Break an egg into center of each bagel half and sprinkle with equal amounts of salt and pepper.
Sprinkle cheese over eggs.
Bake in 400F oven for 8 to 10 minutes or until eggs are set but yolks are still soft.