Cheddar Bacon Wrapped Hamburgers
Dine Dish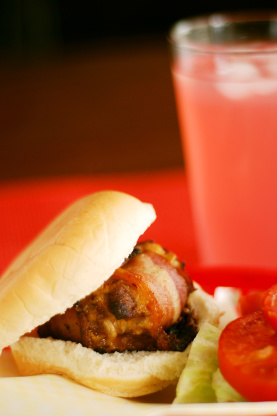 These are delicious burgers! Full of flavor and perfect for your next grilling adventure! My husband has made variations of these adding a dash of cayenne pepper in place of the pepper and a dash of garlic salt in place of the salt. Any way you make them, they are awesome!!

These were so juicy and tasty. I added a bit more hamburger and grated my onion. My husband and I thought they didn't need any condiments they were that good! Thanks for a great hamburger recipe!
Preheat a grill for high heat.
In a large bowl, mix together the Cheddar cheese, Parmesan cheese, onion, egg, ketchup, Worcestershire sauce, salt and pepper. Crumble in the ground beef, and mix together by hand. Form into 6 patties, and wrap two slices of bacon around each one in both directions. Secure bacon with toothpicks.
Place patties on the grill, and cook for 5 minutes per side, or until well done. Remove toothpicks before serving on hamburger buns.