chia2160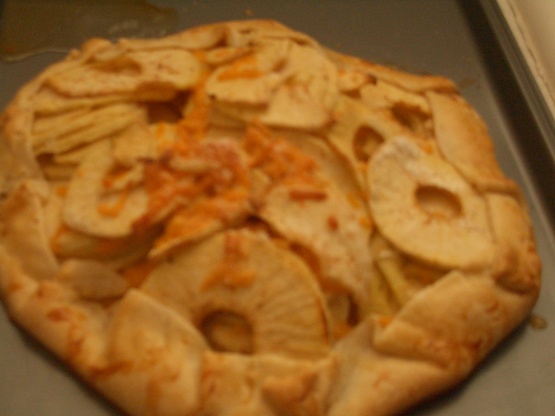 This looks really good but I haven't personally made it yet. If you do, please post a review! Thanks! Source: Family Circle

i also saw this in family circle, and was going to post it. this recipe didn't work as well as i would have liked it too. i think 2 apples would have been plenty, the center apples were very dried out but the inner apples were juicy. the cheese and apples are a good combo , but i think nextt time i would use a double crust and make a pie.
Heat oven to 400°F.
In large bowl, with a fork, toss together piecrust mix, 1/2 cup of the cheese and the apple juice; shape into a ball.
Roll out on a floured surface to 14-inch circle.
Roll pastry back onto rolling pin; unroll onto a large baking sheet.
In a large bowl, toss together 1/2 cup of the shredded cheddar, apples, sugar, cornstarch and nutmeg.
Set aside.
Sprinkle remaining 1/2 cup cheddar cheese onto center of crust, leaving a 3-inch border.
Mound apple mixture on top of cheese.
Fold edge of crust up and partway over filling.
Brush crust with egg yolk/water mixture.
Bake 35-40 minutes until crust is lightly browned and apples are tender.
Cut into wedgest and serve warm.