Cheddar and Bacon-Stuffed Baby Potatoes
Nimz1466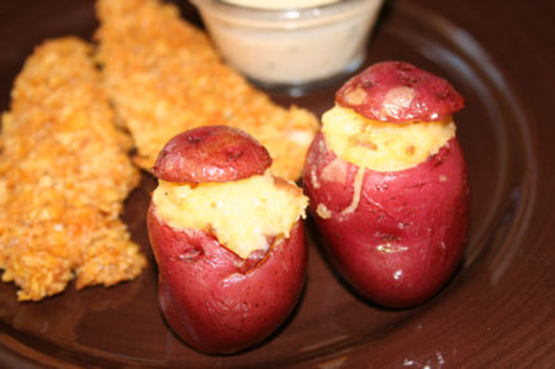 Serve these tasty snacks warm from the oven for a really delicious party nibble - they're popular with adults as well as children....

Well this was a challenge. The general outcome was very tasty. I had to attempt this twice. The first time I simmered the potatoes, the skins of all of them cracked and peeled back. The next time I only simmered them for 15 minutes, then microwaved them for another 5 minutes at 1 minute increments. These were very hard to work with because the skin was so fragil. It took much longer than stated time to prepare them. I used a sharp paring knif to loosen the potato and then a grapefruit spoon to scoop out the inside. Not sure I'll make these again because they are so time consuming, or they were for me. Thanks Made for PAC Fall 07
Simmer the potatoes until just tender before draining in a colander. Preheat a grill and cook the bacon until crisp. Preheat the oven to 400°F
Cut tops off each potato, and using a small sharp knife, scoop out the flesh. Cut thin strips off each of the potato bases so that the potatoes can stay upright.
Using a fork, combine the potato flesh with the butter and cheese. Season well and stir in the bacon.
Using a teaspoon, carefully spoon the filling back into the potato shells and top with the potato lids set at a jaunty angle!
Brush liberally with the olive oil and set the potatoes on a baking tray, lined with baking parchment. Cook until the filling is golden and the cheese is golden - about 10- 15 minutes.
Garnish with herb sprigs and serve warm from the oven.