I found this recipe over at betterrecipes.com and fell in love with it. It's SO easy! I sometimes add a little italian sausage and some garlic.
Directions
Boil Pasta as per instructions on box.
Drain and return to pot.
Combine ingredients (saving a little sauce, Mozzarella, and grated cheese to sprinkle on top.) in pot and mix thoroughly.
Transfer to disposable aluminum pan, spread left over sauce, sprinkle with mozzarella, and grated cheese on top.
Sprinkle with chopped parsley.
Cover with aluminum foil and bake in pre-heated oven at 350 for approximately 45 minutes.
Reviews
Most Helpful
You can't beat this for ease of preparation. All the cheese gets evenly distributed, as well as the sauce, so every mouthful is just right! I ended up using rigatoni, which worked out well and a combination of romano and parmesan. After 45 minutes, I removed the foil and, while the cheese on top was nicely melted, it wasn't very brown. After 5 more minutes in the oven, uncovered, I decided to run it under the broiler for a couple of minutes. Delish! Made for Spring PAC 2010.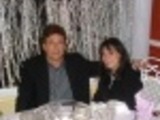 This was soooo good! I used Classico with Sweet Basil for the sauce, zitoni pasta (roomie got the wrong one), grated parmesan, and added mild italian sausage and a clove of garlic. It was very easy to make and we pigged out! No worries about whether to make it again because it was a big hit!! Thanks for sharing. Made for PAC Spring 2010.