Cheater's Honey-Mustard Chicken
VickyJ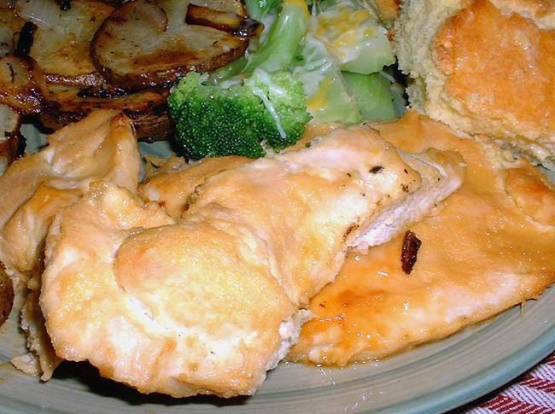 Borrowed my sister in law's community cookbook and liked this one! It's a cheater's recipe since it uses a commercially prepared honey mustard and mayonnaise. How easy could it get? You could also use this on salmon.

Top Review by VickyJ
Hi there! :) I have to confess, I made this about a month ago, but I never had a chance to get my review in. Tonight, was the second time we had it. It's great when you don't have a lot of time, but still want a really good dinner. The first time I served it over rice, with buttery corn nibblets on the side. Tonight was this great chicken with Uncle Bill's Fried Potatoes and Onions, broccoli and cornbread. The smells in the kitchen from the chicken and potato recipes combined together were amazing. Sorry I didn't review it the 1st time around. Pictures of both presentations will be submitted. Thank you for the great dinner(s)! :) ...Coming back to add that I used skinless chicken thighs the first time and breasts the second.
Preheat broiler.
Place chicken parts, skin side down, on a broiler pan.
In a small bowl, combine the mustard and the mayonnaise and brush half of this on the chicken.
Broil 8-10 inches from the heat for 10-12 minutes and then turn the chicken and brush with the remaining mustard mixture.
Broil 10-12 minutes, until done.