Cheater's Chocolate Chocolate Chip Cookies
Karen..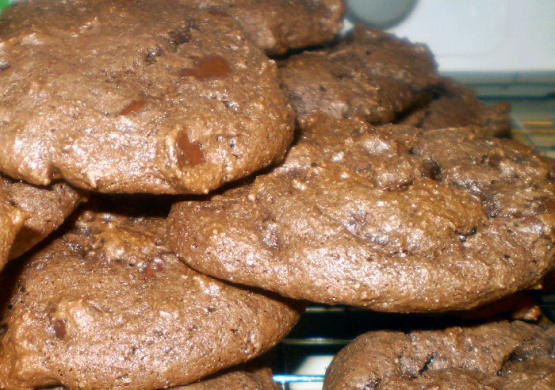 I was inspired by Chef#407338's Cake Mix Lemon Pecan Cookies and decided to come up with my own recipe using cake mix.If you feel like this recipe has too much chocolate, ( As if there could be too much chocolate ;) ) you can use a white cake mix instead.To keep cookie dough from getting too soft, place in refrigerator between uses.The cooking time is for each sheet of cookies.Submitted to "ZAAR" on November 25th,2008.And again I want to thank Chef#407338 for inspiring me.:)

These are very easy and taste great. My daughters thought they were awesome! I didn't have mini chips, so I added a full cup of regular size chocolate chips and didn't use the optional nuts. I didn't flatten the cookies half way through baking because I wanted a chunkier look. I did use parchment paper, but they stuck pretty bad. I had better luck with foil, so I continued with that. Yield and 10 minutes time were right on for me. Gotta love cake mix cookie recipes! Thanks for posting!
1

(18 1/4 ounce) dark fudge cake mix
1⁄4 cup butter, softened

2

large eggs

3

tablespoons milk

1

teaspoon vanilla
1⁄2 cup mini chocolate chip
1⁄2 cup walnuts (optional)
In a large bowl mix well butter,eggs,milk and extract.
Add cake mix, chips and walnuts ( if using ).
Chill dough for 30 minutes.
Using a 1 Tablespoon sized cookie scoop,place 12 balls of dough on a parchment lined cookie sheet, making sure that dough is evenly spaced ( cookies will spread ).
Bake each sheet at 350 degrees for 10 to 12 minutes,half way though baking time, flatten each cookie slightly and finish baking.
Cool on cookie sheet for 5 minutes,then place on wire rack to finish cooling.