Cheap Cheddar Chicken Bake
Parsley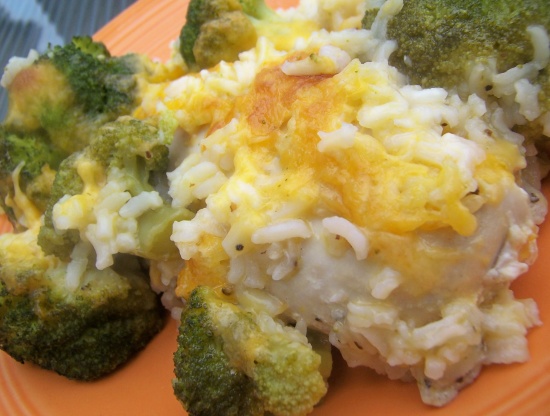 I call this "cheap" because our supermarket has sales where you buy one package of chicken, you get one free! Sometimes I use a blend of brown rices, including japonica and wehani, but here I used a brown and wild-rice blend. You may have to adjust the cooking times a bit - they're approximate. We thought this was a nice stick-to-your ribs meal!

Hi, Divaconviva! I had printed out a batch of cheese/chicken casseroles and my wife picked this one from the bunch -- I'm glad she did! The sherry and the nutmeg gave the dish just a slight (very nice!) Morroccan ambiance, separating this casserole from all the others and making it anything but boring. The true test results were reflected when my wife made a special point to tell me to make it again soon -- that doesn't happen very often as we usually have very differing tastes on the topic of supper. I hope others are paying attention here because this recipe is a real crowd-pleaser. I did bake it for a few extra minutes before topping it with the cheese (I used the Monterey Jack since the cheddar is in the soup) as I may have added a little more fluid than the recipe called for. But that's the beauty of the recipe... you can make it as thick as you like by this method. The chicken was very tender and the blend of flavors was perfect. Thanks for posting this great one-dish meal! pat
Season chicken breasts with salt & pepper and place in 9 x 13 baking pan.
Sprinkle dry brown and wild rice around and between chicken breasts.
Arrange broccoli florets around the chicken.
Mix soup, boiled water, sherry, garlic and nutmeg in bowl, stirring until blended.
Pour soup mixture over chicken and broccoli, making sure to cover all the rice in the liquid.
Cover baking dish with foil and bake at 350 degrees for 45 minutes.
Take baking dish out, remove cover, and place cheese on top.
Put back in oven and cook for 15 minutes longer, or until the cheese is completely melted.