Bergy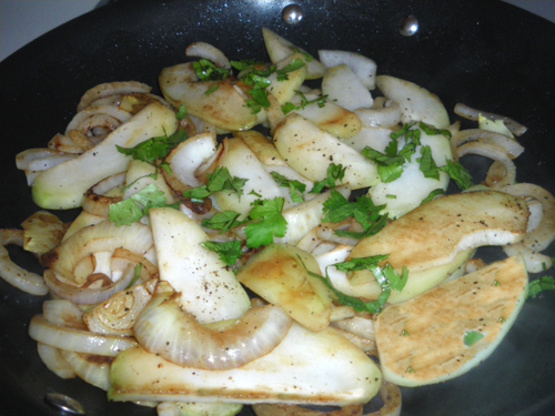 A simple dish that allows a bit of variety to your usual favorite veggies. Try using Cilantro instead of oregano. I use about 2 tbsp fresh chopped

Top Review by alijen
I really like chayote squash for a number of reasons- low cal, low carb, very versatile. This is an easy way to prepare the squash, but I do a few things differently: First, I halve and boil the chayote for about 15 minutes, to make them a little more tender. Then, I add the onions to a hot pan, with butter-flavor spray (to cut down on calories- no oil), saute them for about 3-5 minutes, then add the chayote. This is also good without oregano, or with a little shredded chedder cheese on top. I hope Darlene10 will try again, but if not, thanks for the recipe anyway!
Pare and seed the chayote.
Cut lengthwise into 1/2-inch thick slices.
Cut onions lengthwise into halves.
Cut halves lengthwise into 1/4-inch slices and separate into slivers. Heat butter and oil in a skillet over medium heat until foam subsides.
Add onions and oregano; sauté over medium-low heat until onions are golden (8-l0 minutes). Add chayote; sauté 3 minutes. Cover and cook until chayote is crisp tender (approx. 8 minutes).
Add salt and pepper.