Char's Quick and Easy Peach Cobbler
csbndc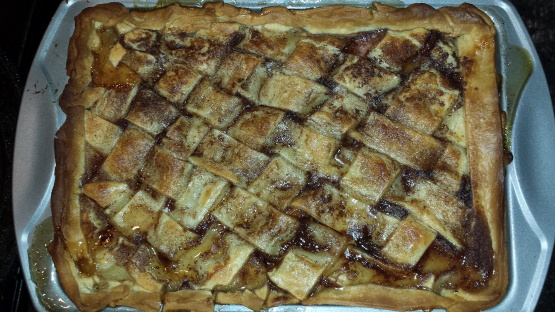 Is it cobbler or pie? This is the closest I've gotten to what my great-aunt Sis would prepare. Not exactly the same yet still delicious. I consider it cobbler.
4

ready-made pie crusts

8

cups frozen peaches

2

cups water

1

tablespoon cinnamon

1

tablespoon nutmeg

2

cups sugar
1⁄2 cup butter
cinnamon sugar, to dust
Preheat oven 350° and prepare 9x13 pan.
Half 2 of the pie crust to line 9x13 pan.
Add peaches evenly.
Mix cinnamon, nutmeg, sugar in the water.
Spread mixture evenly on peaches.
Dot with butter.
Lattice remaining pie crust on top.
Dust with desired cinnamon sugar.
Bake 40 minutes.