teresas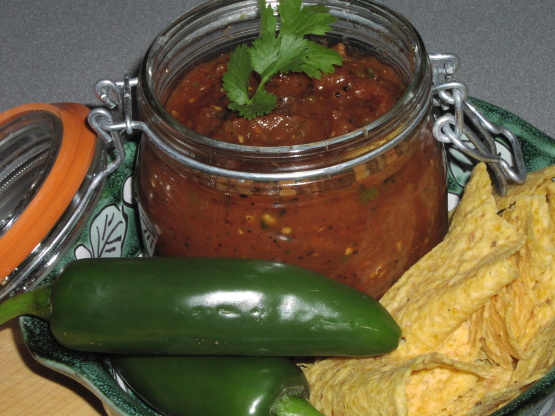 Charring the tomatoes is the key to great salsa! I just recently started adding the chipotle in adobo, it gives it a great flavor!

We enjoyed the smokey flavor...but it sure doesn't pack any heat...I did cut the recipe in half...and I really think I had enough for 8 hungry people...I added the optional chipotle items but if you like things hot...I would suggest adding extra jalapenos or maybe a habernero, or two...the cooking process was spot on...I grilled all my goodies under the broiler and tossed them in my mini blender and away we went...thanks for posting it...made for Spring 2012 PAC...:)
Charr tomatoes and jalapenos until black on all sides.
You can do this in a cast iron skillet, in the oven or on the grill.
You want very dark skins.
Throw everything in blender.
Blend until constancy you want.
Add bouillon to taste.