Dantana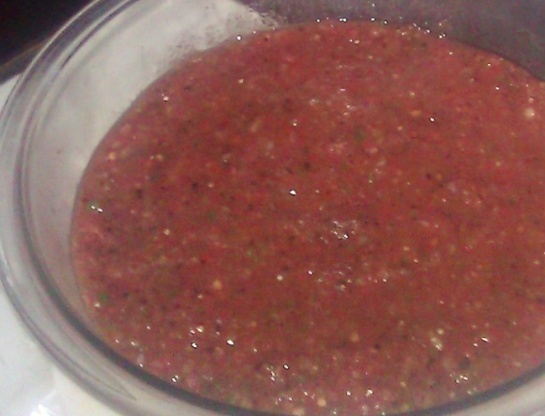 Ever wonder what to make when all the summer veggies are ready from the farmer's market or your own garden? This is a salsa that screams summertime, fresh veggies on the grill! This is a slight variation of the Sandwich King's Salsa Negra. Don't be afraid of the tomatillos, when grilled they have a very mellow flavor.
3 -4

fresh tomatoes

1

jalapeno (seeded if you don't like hot)

1

poblano pepper

1

vidalia onion (I normally use white onion in this salsa, but this needs a sweet)

3

tomatillos

1

lime
Slice tomato into half inch steaks (see picture).
Wash and rinse tomatillos, keep them whole.
Wash poblano pepper.
Quarter onion with skin on.
Grill all of these on all sides until blackened.
Take the stem off the poblano.
Take the charred outside of the onion off.
Put it all in a food processor.
Add the juice of one lime.
Process in food processor and you have the best summer salsa money can buy!