Charred Prawns (Shrimp) With Capsicum Mayonnaise
Peter J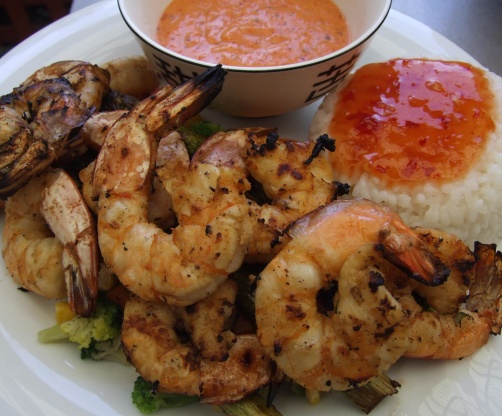 Red Bell pepper is called Capsicum in Australia. Please allow 2 hours for the prawns to marinate. From a Mexican recipe book that was made in Australia.

Yum! At first I thought the capsicum mayonnaise may have been a bit bland for my tastes but the roasting really brought out the flavours. I also really liked the marinade for the prawns and thought the two worked wonderfully together. The only change I made was I didn't have any fresh coriander leaves so I substituted the green portion only of some spring onions.
Peel and devein the prawns, leaving the tails intact.
Combine the garlic, lime juice, cumin and coriander in a bowl, place the prawns in the marinade and mix well.
Cover and refrigerate for at least 2 hours.
To make the capsicum mayonnaise, preheat the oven to 190°C
Cut the capsicum into quarters and remove the seeds and membrane.
Place on a baking tray with the garlic and drizzle with the olive oil.
Cook for 20-30 minutes or until the skin blisters on the capsicum and the garlic is soft but not burnt.
Place in a plastic bag until cool, then peel the skin off the capsicum and garlic.
Place in a food processor with the mayonnaise and process until fairly smooth.
Place in a bowl and stir through the lemon juice.
Preheat a lightly oiled chargrill or heavy-based pan until it just starts to smoke.
Drain the prawns, discarding the marinade and cook for 2 minutes on each side or until cooked.
You may need to do this in batches depending on the size of your pan.
Serve the prawns with the mayonnaise and a wedge of lime.