Charmie's Soft Sugar Cookies
Calee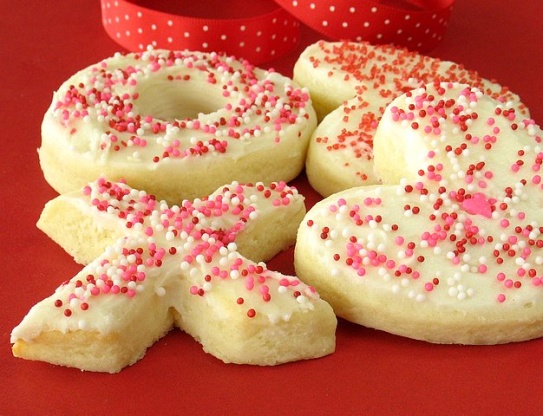 I know there are a ton of sugar cookie recipes here, but I couldn't find this one, and it's my favorite! It makes a nice thick and soft sugar cookie, that's perfect for all the holidays. Frost these with your favorite vanilla frosting (I often just used the store-bought stuff...shhhhh!). Cooking time includes chilling time. I'm guessing on the amount, but I'll adjust when I make these soon!

Agreed w/everyone else that the temp was too high. I even baked mine at 350 and they turned out great (my oven tends to get really hot). I also did put the remaining dough in the fridge in between batches b/c as someone else posted, the dough got soft really quick. The cookies themselves came out BIG, SOFT, DELICIOUS...PERFECT!
Cream margarine or butter with sugar.
Add eggs and vanilla and blend well.
Sift together dry ingredients and add to butter/sugar mixture.
Chill at least 1-1/2 hours.
Roll on floured board to 1/2 inch think.
Cut with desired cookie cutters.
Bake at 400º 8-10 minutes on a greased cookie sheet.
Cool and frost with your favorite frosting!