Charlie Haskins Coney Sauce No. 7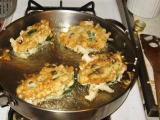 This sauce turned out so good that I dedicated it to my good friend and fellow Appalachian chef, Charlie Haskins. If you peruse my recipe page, you'll note that I have posted a number of coney sauces -- this one (in my humble opinion) rates right there at the top of anything that I've created in that line so far. It takes a while to prepare but it's quite simple to make and the end product is certainly worth the effort. FREQUENT stirring is imerative! Take this one as a covered dish (with dogs and buns) to a school event, to the family reunion, or, freeze some in zip-lock bags and take it camping. I hope you enjoy it as much as I do.
Directions
In a large cooking pot, over medium heat, pour in the chicken broth and water and add the ground chuck, breaking it up some as you add it. Bring to a boil.
Add all other ingredients EXCEPT for the sugar and blend with a large spoon. Reduce the heat to a VERY low boil and allow the sauce to simmer for a total of 3 hours, covered, stirring frequently.
Add the sugar in the last 30 minutes of cooking time -- if you add it sooner it will probably scorch the sauce.
Serve over hot dogs, which are even better topped with finely shredded sharp cheddar cheese on steamed buns.
SUBSTITUTIONS: The chipotle chili powder is a key ingredient so, if you can't get it use one of the following -- a canned chipotle chili pepper with some of the sauce that clings to it, or; 1 teaspoon of regular chili powder and 1/8 teaspoon of Liquid Smoke. I order my chipotle chili powder from Kokopelli's Kitchen, online: http://www.kokopelliskitchen.com/.
Most Helpful
I lived in New York for a few years and when I moved back to the UK I really missed the chilli dogs!! This is the most authentically tasting recipe I have found, really easy to make but tastes great. I had to substitute a few things that are more difficult to find over here but it still tasted great. A firm favourite we make it all the time now, make a big batch and then freeze individual portions for a quick and easy supper of chilli dogs in a bun with some grated cheese and sweet potato wedges on the side.
Ok after fixing many of the common recipes out there. Many of them saying they were a&w copy cats or coney island. Umm most of them were barely edible as coney sauce i think. They tasted more like sloppy joe then they did coney sauce. SO i did some research on google. I looked for recipes high and low (3 hours) that looked good. The ones that looked good i pasted into a word document. I actually didn't find this recipe here but at roadforums. He said he had posted the recipe at recipezaar so i joined just so i could review it. Anyways. At last a RECIPE that was good. This is by far the best recipe for coney sauce that ive tried. Great job!!! Do i think its perfect? No! I rarely find a recipe that is but it is definitly very good and the first one i will make again. I did make some small substitutions: Instead of a bell pepper i used a roasted anaheim chile. I also wanted to make it healthier so i used ground sirloin. I also wasn't aware i was out that i was out of sugar so i used brown sugar. I didn't have 3 hours so i cooked everything from 45min-1hr. I fixed it with turkey dogs that were heated through in hot water and then grilled at the last second to crisp the skins (would be better with natural skin dogs but i'm trying to get ready for the chicago marathon :)), buns slightly warmed in the oven, cheese, cilantro, chipotle hot sauce, and onions. I have some other recipes im going to try but this will be the standard that i used to compare them to.