Charishma's Delicious Cumin (Jeera) Rice
awalde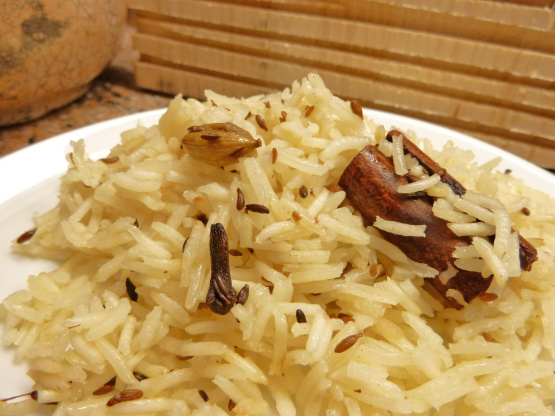 This was very well enjoyed by my family when I served it alongside my Pressure cooked Black eye peas (chauli). Please do try it if you want a nice jeera rice recipe and let me know what you think!

Top Review by awalde
I've never prepared a jeery rice until now and I have to tell you that this was a mistake as your recipe is so perfect. The best way to find the recipe again is to take picture and write a review:
I will do it again!
Please write more recipes again, I tried many of your recipes and all are fantastic.
Heat oil in a pot on medium flame.
Once its hot, toss in the cloves, cardamoms, bay leaf, cinnamon stick and cumin seeds.
Allow the cumin seeds to crackle.
Once they stop crackling, fold in the drained rice and cook on medium flame, stirring continuously for 4 minutes.
Stir in water and salt.
Mix well and bring to a boil.
Lower flame and allow to cook until all the water has been absorbed and the rice is cooked.
Remove from heat.
Serve hot with "Charishma's Delicious Pressure-cooked Black-eye peas (Chauli)".
Enjoy!