Chargrilled Swordfish on Warm Avocado Corn Salad
Prep 10 mins
Cook 10 mins
Recipe from Australian Avocados: www.avocado.org.au
Directions
Heat a non-stick pan to high, add the oil and sear the swordfish for 1 to 2 minutes or until starting to soften. Remove from pan. Cover with foil and keep warm in a low oven.
Add the shallot, corn and red pepper to pan and cook, stirring for 1 to 2 minutes or until starting to soften.
Add the avocado, coriander and white wine. Cover and steam for 1 minute until heated through.
Place avocado corn mixture on heated plates and top with swordfish.
Add lemon and vinegar to the pan and whisk into pan juices. Pour over the fish and serve immediately.
Reviews
Most Helpful
This recipe produces a great restaurant-style dinner. DH did grill the swordfish because we prefer it that way. I would definitely make this again. It's going into my Best of 2016 file. Thanks for sharing!
I cooked this swordfish last night for a group and it was a definite hit! We loved the combination of flavors in the salad and it paired perfectly with the swordfish. We didn't pan sear the swordfish though. We had to grill it! So I seasoned the fish with salt and pepper on both sides. I purchased 6 oz steaks and 8 oz steaks. The 6 oz steaks were grilled 5 minutes per side and the 8 oz steaks were grilled 6 minutes per side. They were flaky and meaty and wonderful! What a great dish! It's one of my favorites!!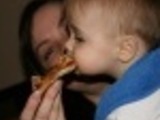 I really liked the avocado salad, and I grilled my swordfish. It was good, but I don't think that I would make it again. I think that the fish would have tasted better if it was marinated.