Chargrilled Oysters Acme Oyster House Style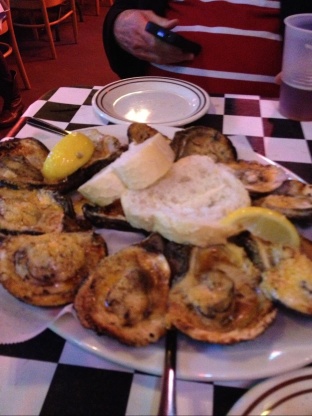 This is my favorite way to use fresh oysters. Living in the Northwest it's easier to get the large less sweet pacific variety. Any fresh variety available will work for these buttery, cheesy, spicy bursts of oyster goodness. Recipe from "Louisiana Cookin" Magazine.
Entirely too much sauce and probably a little too much cheese, as well. What a waste of 2 dozen oysters. I tried this recipe before serving it to guests, thank goodness. Comparing this recipe to the Acme grille doysters is like comparing apples to oranges.
Directions
Melt half the butter in a medium sauce pan over medium heat. Add your lemon juice, Worcestershire sauce, green onions and all herbs and seasonings. Cook for 2-3 minutes, then stir in wine.
Keep stirring and remove from heat as soon as the green onions wilt. Let cool for 3-4 minutes. Add the rest of the butter and stir until completely incorporated.
Heat grill to to 350°F Place oysters on grill. When the oyster liquor starts to bubble, spoon 1 tablespoon of sauce on top of each, then top with 1 tablespoon of Romano cheese. Let the cheese melt.
When oysters begin to slightly brown at the edges, remove from grill and place on a heat proof plate or tray.
Top each oyster with an additional tablespoon of the butter sauce and serve immediately with slices of french bread for dipping.
All you need is a good pint of lager and a few friends. I suggest a little Jazz in the background.