Chargrilled New Potato Skewers
diner524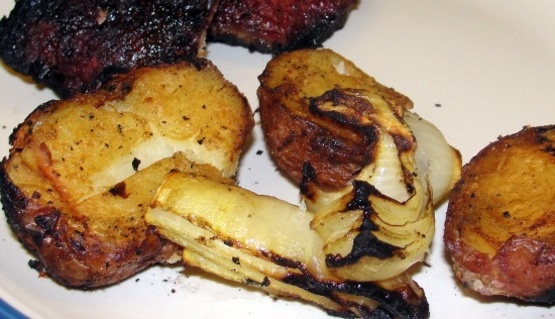 This is a simple recipe you may grill on the barbeque or broil in the oven! Adapted from BBQ Club.
What can I add to these reviews, except the same type of review!! These were an awesome side dish with you sugared sirloin steak recipe!! I cooked them earlier in the day and then sliced them in half and added the oil and seasoning (I used seasoned salt and pepper), then about an hour before adding them to the grill, I skewered them and let them get to room temperature before grilling! Worked out perfectly!! Thanks for sharing the recipe. Made for your cook-a-thon in memory of your DH!!
Cook potatoes in boiling salted water until just tender, 15 minutes.
Cut in half and toss with oil, salt and pepper.
Thread potato halves on to skewers.
If grilling outdoors on the barbeque over medium coals, turning regularly, until lightly charred, about 10 minutes. Serve hot.
If doing indoors, preheat broiler.
Broil, turning regularly, until lightly charred, 10 minutes.
Planning ahead:.
Pre-cook potatoes up to 1 day in advance. Cut in half, toss in oil and skewer up to 2 hours in advance. Cover and keep at room temperature until ready to grill.