Chard With Bacon Dressing
Rita1652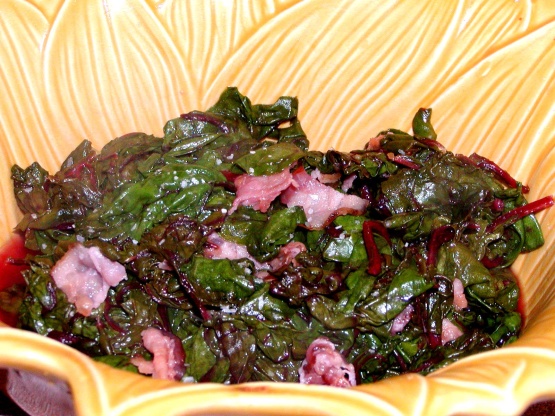 Mom would prepare this for us often when fresh chard from Dad's garden was plentiful. When I finally wrote down the recipe, Mom couldn't give me exact measurements, as all good cooks are guilty of. I think this recipe is based on traditional Mennonite/Pennsylania Dutch fare, since my Dad was from that region. A blast from the past!

This was so good! I've grown Swiss chard for a couple of years now and didn't really know what to do with it. Now I do! I added a little chopped onion but kept everything else the same. Delicious!
Rinse and drain well the chard to remove grit. Cut away stems and discard.
Fry up bacon slices until crisp. Transfer to paper towel and drain. Let cool, then crumble. Set aside. Reserve bacon fat.
On medium-high heat in frying pan, add the vinegar and sugar to the bacon fat and bring to boil. Boil for about 30 seconds. Make sure not to burn; reducing heat if necessary.
Reduce heat to medium, add the chopped chard and sautè 2-3 minutes until slightly wilted but not slimy.
Add the crumbled bacon. Stir well to coat with the bacon dressing. Transfer to platter and serve warm.