Lorac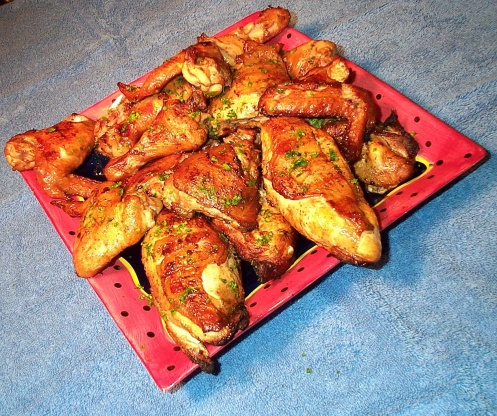 Best on charcoal grill but can be done on a gas grill.

Top Review by Lorac
A perfectly balanced marinade, flavored by lemmon, garlic, cumin and black pepper with a hint of soy and sugar. We loved the way it added flavor without interfering with the barbequed chicken taste. I doubled the garlic (a vampire warning had been issued that evening) and had to substitute a bit of red wine vinegar for some of the lemon juice. My only suggestion would be to add more cumin if you are marinating for only an hour. DH says I will be making this often. Thank you Dorothy!
Arrange chicken in 9 x 13 x 2 inch dish.
In small bowl, combine remaining ingredients, pour half mixture over chicken, cover and refrigerate chicken for at least 1 hour or overnight.
Cover and refrigerate bowl of remaining marinade for basting.
Drain chicken, discard liquid.
Wear a hot mitt,and use tongs to arrange medium hot briquettes in a ring, leaving 12 inches in center free of coals.
Grill chicken on covered grill, skin side down, in center of grid, directly over coal free area for 25 minutes.
Baste with reserved marinate.
Turn, cook 20 to 25 minutes or until no longer pink at bone (Alternately, on gas grill, set end burners on medium heat, leave center burner off, place chicken over off burner and cook as instructed above).