Charcoal-Grilled Blackened Red Snapper
gailanng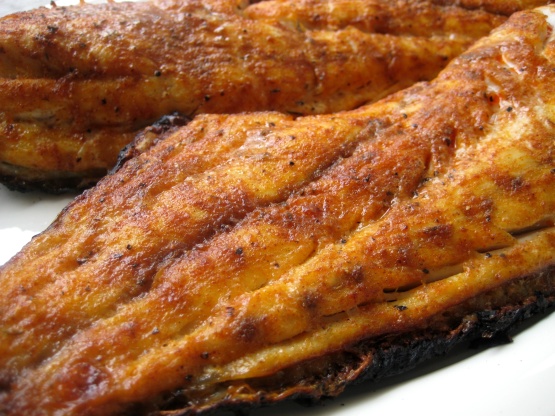 Recipe courtesy of America's Test Kitchen. I love to watch this show and learn new/different methods of cooking and baking. This just sounds like something we would really like. "If using fillets that are 1/2 inch or thinner, reduce cooking time to 3 minutes per side. If using fillets that are 1 inch or thicker, increase cooking time on second side by 2 minutes, moving the fish to the cooler side of the grill after the second side has browned. If you cannot find red snapper, striped bass, halibut, and catfish can be substituted. Making the slashes in the skin requires a sharp knife. If your knife isn't sharp enough, try cutting through the skin with a serrated knife. However, cut in one direction (don't saw) and be careful not to cut into the flesh. If you choose not to eat the skin, be sure to remove it after cooking rather than beforehand. Serve fish with lemon wedges and our Rémoulade or our Pineapple and Cucumber Salsa with Mint." Skin-on fillets will buckle when grilled because the skin will shrink back, pulling the flesh along with it. The fillets will remain flat if the skin is scored first, which prevents it from contracting more quickly than the flesh.
This is the best Red snapper that I have ever had. Grilled it last night on oak wood on the grill on top of aluminum foil wonderful!!! I have heart problems so I left out the salt you can't tell anything is missing.I also roasted corn on the cob to go with it. The picture on the recipe is a little bit offputting, dry looking. I almost didn't make it but mine turned out moist and wonderful.
Combine paprika, onion powder, garlic powder, coriander, salt, and peppers in small bowl. Melt butter in 10-inch skillet over medium heat. When foaming subsides, stir in spice mixture. Cook, stirring frequently, until fragrant and spices turn dark rust color, 2 to 3 minutes. Transfer mixture to pie plate and cool, stirring occasionally, to room temperature, about 10 minutes. Once cooled, use fork to break up any large clumps.
Light large chimney starter filled two-thirds with charcoal (4 quarts, or about 65 briquettes) and allow to burn until coals are fully ignited and partially covered with thin layer of ash, 15 to 20 minutes. Build modified two-level fire by arranging coals to cover one half of grill. Position cooking grate over coals, place large disposable roasting pan on grate directly over coals, cover grill, and heat grate until hot, about 5 minutes. Remove roasting pan and scrape grate clean with grill brush. Grill is ready when coals are hot (you can hold your hand 5 inches above grate for 2 to 3 seconds).
Meanwhile, pat fillets dry on both sides with paper towels. Using sharp knife, make shallow diagonal slashes every inch along skin side of fish, being careful not to cut into flesh. Place fillets skin side up on rimmed baking sheet or large plate. Using fingers, rub spice mixture in thin, even layer on top and side of fish. Flip fillets over and repeat on other side (you should use all of the spice mixture). Refrigerate until needed.
Lightly dip wad of paper towels in oil; holding wad with tongs, wipe cooking grate. Place fish perpendicular to grill grates, skin side down, on hot side of grill. Grill, uncovered, until very dark brown and skin is crisp, 3 to 4 minutes. Using thin metal spatula, carefully flip fish and continue to grill until dark brown and beginning to flake, and center is opaque but still moist, about 5 minutes longer. Serve immediately.