Peter J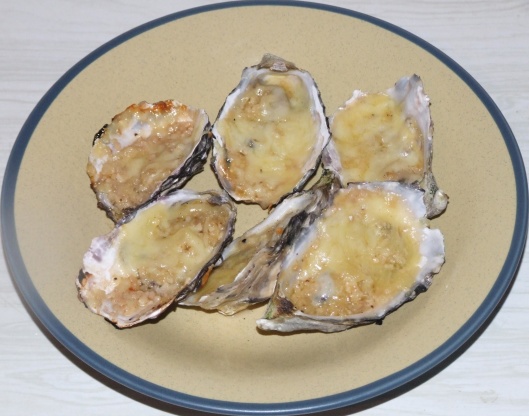 This recipe actually originated with Chef Tommy Cvitanovich,at Drago's in new Orleans. It is a quick, easy and really cool way to cook and really enjoy fresh Oysters! Especially good on cold Autumn evenings, served with fresh shrimp and catfish for dinner at camp after a hard days hunting

Fabulous Easy Recipe! Having grown up eating Chincoteague oysters, I love them just about any way they are served. This may be my favorite, though! DH still prefers my deep fried oysters, but these grilled are delicious! Make plenty, they will go fast!
On an outside grill,preferably a charcoal or wood burning grill, place half dozen oysters (on the halfshell). Put 1 tablespoons butter garlic sauce (see recipe) and sprinkle Parmesan cheese and Romano cheese on each oyster and allow to saute in shell till oysters curl. Serve hot.
Caution: Cooking on an outside grill because of intense heat and smoke is reccommended.