Char Siu Pork Cutlets With Chinese Coleslaw
JustJanS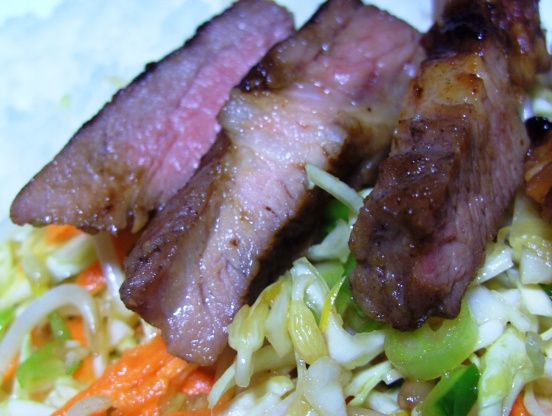 From the local state paper The West Australian. Sounded/looked delicious to the DH and I, so saving it here for later and as such times are estimates. Even without the slaw I think this recipe is worth consideration for the pork lovers.

I made this tonight using pork scotch fillet steaks. The meat was amazingly tasty and tender-the coleslaw only so so for our tastes. I added a chilli and a grated carrot to it, but I still think it lacked something. I have made a few Asian coleslaws and would make one of them next time I cooked this dish.
For the marinade mix the honey, dark soy, 5 spice powder, garlic, ginger and rice wine and whisk together.
In a shallow container place cutlets and coat well with marinade mix.
To cook the cutlets will depend on the thickness but on average on the grill (outdoor or indoor on the stove top or under the grill/broiler) I would think about 10 to 12 minutes (5 to 6 minutes per side) for a moist chop, if you like well done go for an extra few minutes.
For the slaw - combine the cabbage, sprouts, spring onions .
Whisk together the light soy sauce, lemon juice and sasame oil and pour over cabbage just before serving.