MC Baker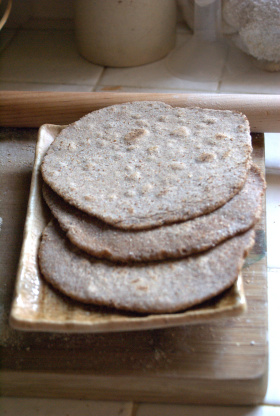 This lowfat, high fiber, vegan (without margarine) recipe was taken from the "Healthy Vegetarian Cookery" cookbook by Nicle Oakley.

I'm not sure what I did wrong, but mine didn't puff up. I may not have cooked them long enough. For such a simple recipe they are surprisingly tasty. If it weren't for all of the kneading I'd be sure I'd make these regularly. As is I'm sure I'll have them again.
Sift the flour and salt into a large bowl and make a hollow in the centre.
Add the water gradually, working in the flour to make a firm dough.
Knead well for about 15 minutes, until the dough is smooth.
Cover with a damp cloth and leave to stand for about 30 minutes.
The dough should be quite firm and hard.
Divide the dough into eight portions.
Roll each into a circle, about 15 cm (6 inch) in diameter, sprinkling the rolling pin and work surface with flour to prevent sticking.
Cook each chapati in a very hot heavy frying pan, without fat.
When the top surface shows signs of bubbling, turn the chapati over and cook for 30-40 seconds on the other side.
Then place the chapati under a warm grill until it puffs up.
Spread margarine lightly on one side, fold over and serve hot.