Chao Ga - Vietnamese Rice Porridge
Chickee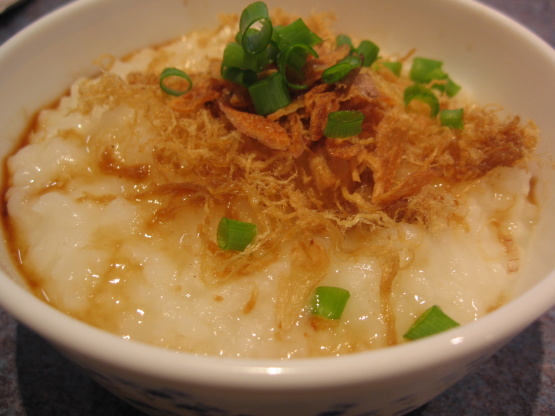 My Vietnamese fiancé absolutely loves Chao Ga. He and I edited a version we got to make it easier for our family. It's a thick rice soup. The rice gets soft and it's very comforting when sick. You can use just long grain white rice if you do not have glutinous rice. It's a great way to use leftover chicken, and sometimes I poach an egg on top after the rice has cooked to have more of a comforting feel. Sometimes you need to add more chicken stock to keep it soupy, so I check it a couple times while cooking. You can garnished with a couple of sliced Polygonum leaves, but I don't have them so I skip that part.

Top Review by Phammy
I'm so happy I found this recipe. I used regular jasmine rice and 2 cups of chicken and added a little more fish sauce. The only thing I would change would be the poultry seasoning (I used McCormick Chicken rub). I forgot to taste before I added and a tablespoon was WAY too much for my liking. I set the water on high til it boiled and then put it on the low/1 setting on my stove. I let it sit for 45 minutes but I would check it the last ten minutes next time.
I am definitely using this recipe again but w/out the poultry seasoing and maybe adding green onions.

***(9/26/10)
I made this again and simplified the process. I reduced the rice to only 2 cups of jasmine rice (next time I will try 1 1/2) and let it simmer for only 20 minutes, not the full 45. I added a little more fish sauce to taste and with the chicken, I added a bunch of green onions and seasoned with white pepper. Great as leftover with a poached or fried egg. Perfect for when you're under the weather. Thanks again!
Place rice and glutinous rice in a large pot with water and stock.
Bring to boil then lower heat, cover and simmer, stirring occasionally.
Cook until rice is very soft and mixture is thick. Roughly 45-60 minutes.
Add fish sauce, sugar, shredded chicken, mushrooms, and poultry seasoning.
Stir Gently.
If desired, to Poach eggs: add to top of the mixture and cover.
Let it simmer an additional 5-10 minutes, or the eggs are cooked to your liking.
Spoon porridge into individual serving bowls.
Garnish with spring onion.
Sprinkle with pepper.