Champurrado With Honey (Mexican Hot Chocolate)
Prep 10 mins
Cook 15 mins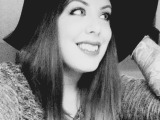 This recipe for Champurrado uses canela (cinnamon), Mexican chocolate, masa dough, milk and honey.
1 cinnamon stick (canela)
1 cup mexican chocolate, chopped
1 cup fresh ground masa harina flour (or substitute 1/2 cup powdered masa harina mixed with 1/2 cup warm water)
10 cups milk
2 cups pure honey
Directions
Add cinnamon, Mexican chocolate and two cups of water to a stock pot. Bring to a simmer, stirring constantly until chocolate melts.
In a separate bowl mix the corn dough with a cup of water until smooth. Pour corn mixture into the hot chocolate, stirring constantly.
Add the milk and honey to the pot, let it simmer over low heat, stirring frequently until the milk thickens, being careful not to let milk burn. Champurrado should be the consistency of heavy cream, if yours it too thick, just add more milk.
For authenticity; froth the mixture with a Mexican Molinillo prior to serving.
Reviews
Most Helpful
Very Good. My dad and son liked the flavor of the cinnamon in the hot chocolate. I halved the recipes and only used a 1/2 cup of honey. Thank You. Made for ZWT8.
Oh, so good... I've been drinking this since childhood and is always one of my favorites on a cold winter morning. I used to work around the corner from a Mexican grocery, and in front they had a cart that sold champurrado during the cold months. I would always be so disappointed when they would run out before I got there. Now, I can have an absolutely delicious version whenever I want to! Like Elmotoo, I scaled back to 2 servings and added the honey to taste. Absolutely divine. Who'da thought you could do that with masa harina? Thanks, Alaina! ZWT8 Om Nom Nommers!!!

I halved the recipe and otherwise followed in exactly as written. The flavor was complex and satisfying. It the kind of drink you don't just swallow down fast, but savor on your tongue. All of us enjoyed it and I will make it again. I'm thinking of serving this in shot glasses for a Mexican brunch. It will leave you wanting more!