Champit Tatties With Skirlie
Kaarin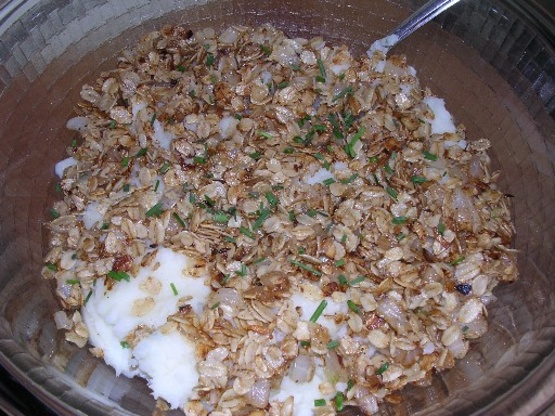 This recipe is from Scotland; in Aberdeenshire it is traditionally served on Saturdays. In other parts of Scotland the skirlie part of this dish is served as an accompaniment to mince or used as a stuffing for chicken, game or lamb. Carniverous cooks can use 1 1/2 ounces of good quality beef dripping instead of butter for frying the skirlie, if they wish. I've not tried this recipe yet (which comes from an old Sainsbury's magazine), but the Zaar World Tour 2005 provides the perfect opportunity to post it. NB this recipe measures in UK fluid ounces, which is slightly different to the USA fluid ounce.

Skirlie should only ever be made using fine or medium oatmeal NOT oats. Thanks for posting this recipe.
3 1⁄2 ounces butter, divided

1

medium onion, peeled and finely chopped

3

lbs potatoes, peeled and cut into chunks (choose potatoes for mashing)

2

ounces oatmeal (or whole rolled porridge oats)

7

fluid ounces milk

1

tablespoon fresh parsley, roughly chopped
salt & freshly ground black pepper
To make the skirlie, melt 1 1/2 ounces of butter in a medium frying pan, add the onion and fry very gently for 15 minutes until soft and browned, stirring occasionally.
Meanwhile put the potatoes for the champit tatties in a large pan of salted water, bring to the boil, cover and simmer for about 15 minutes until they are tender.
When the onions are cooked, mix in the oats, increase the heat slightly and fry, stirring often, until well toasted and golden: remove from heat and season with nutmeg, salt and pepper: set aside.
Towards the end of the cooking time for the potatoes, heat the milk over a low heat (don't boil it).
Drain the potatoes and mash them well potatoes then slowly beat in the hot milk and remaining butter at the same: season and spoon into a warm serving dish.
To serve, reheat the skirlie if necessary, stir in the parsley then scatter over the tatties.