Champagne Punch (Non-Alcoholic)
Pamela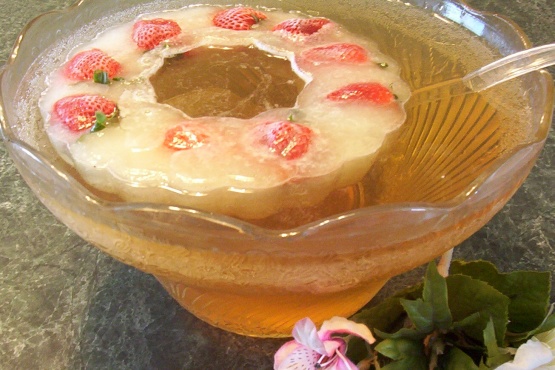 Posted in response for a great non-staining, not red, non-alcoholic punch. Prep time does not include freezing the ice ring.

Top Review by MarBos
We have made this for years as a cheap substitute for sparkling cider! Always a hit at our church functions. I prefer making it with frozen concentrate, using 1 can water and 2 cans ginger-ale for each 12 oz. can of juice. Can adjust proportions to suit taste, adding more water or ginger-ale for less sweetness.
2

liters white grape juice (for a more intense flavour use 2 cans white grape juice frozen concentrate)

1

liter apple juice

2

liters ginger ale
ice, ring

1

liter apple juice (or less) or 1 liter white grape juice (or less)
The night before, or sooner, place the apple juice in the ice ring mold and fill with water.
If you want your ice ring to last longer 1/2 the apple juice and the rest water as juice tends to take less time to thaw.
To serve, mix rest of ingredients in punch bowl and add ice ring.